Flair-ERMS visit Flair-ERMS website
Educational Resource Management System
Flair – Educational Resource Management System is the next generation university management system that supports education for life at the educational institutions across the world with its features and functionalities. Flair – ERMS has been developed over 16 years and still being developed to keep up with the demands of modern day's education system across the globe.
Complete Online Solution for Students, Parents, Faculty members, Administrators and Alumni
Student Portal and Faculty Portal makes Learning and Registration seamlessly easy with greater transparency
Dashboards and Online Reporting All users get a dashboard view alerts and access to reports.
Modular system that is scalable & expandable as the University grows.
Incorporates latest Education Methodologies
End to End Solution
3- Tier Architecture (web server integrated)
Completely integrated
Modular / Block Based
Plug and Play Modules
Workflow bound system
Client Specific customization
Able to replace legacy systems
Flexible Reporting structure - Multidimensional, Regularized, Automated
Highly secure
Outcome based Education (OBE)
Flair - Educational Resource Management System with Outcome Based Education, for Universities, Colleges, Schools and Vocational Institutes, to maintain and improve Quality of Education using OBE (Outcome Based Education) Methodology. Flair - ERMS supports Bloom's Taxonomy and OBE Accreditation Requirements of Washington Accord / ABET.
With Flair - ERMS OBE, the new Bloom's Taxonomy Pyramid can be made dynamic as per requirements of an Institution and can be applied to any programs.
Bloom's Taxonomy Pyramid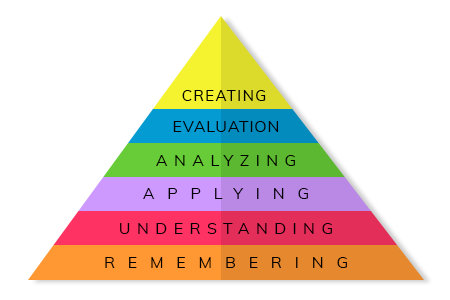 Outcome based education (OBE) is a process that involves the restructuring of curriculum, assessment and reporting practices in education to reflect the achievement of high order learning and mastery, rather than the accumulation of course credits. Thus the primary aim of OBE is to facilitate desired changes within the learners, by increasing knowledge, developing skills and/or positively influencing attitudes, values and judgment. OBE embodies the idea that the best way to learn is to first determine what needs to be achieved. Once the end goal (product or outcome) has been determined, the strategies, processes, techniques and other ways and means can be put into place to achieve the goal. In this context, OBE is defined as a comprehensive approach to organizing and operating an education system that is focused in and defined by the successful demonstrations of learning sought from each student. Clairvoyant Software Technologies Pvt. Ltd., has come out with Flair - ERMS OBE software for an efficient data collection and management of all academic courses offered at an Educational Institution.

While offering an outcome based education (OBE), Flair - ERMS has been developed for efficient data collection and management of all academic courses offered at the University, this invention is also an effective tool for any accreditation. The OBE is a process of restructuring curriculum, assessment and reporting practices in education. The end goal puts in place a comprehensive approach that is defined by successful learning pursuits of individual students. Flair - ERMS OBE is capable of browsing online with mobile apps, and also allows students or parents to track or monitor their academic performance.
Outcome Based Education Methodology is instrumental to
Maintain standard of Education
Fulfill requirements of Curriculum
Accreditation requirements (Washington Accord, ABET)
Satisfy needs of Industry
Continuously Improve and evolve Educational Programs
Ensure Students are with multi tasking capabilit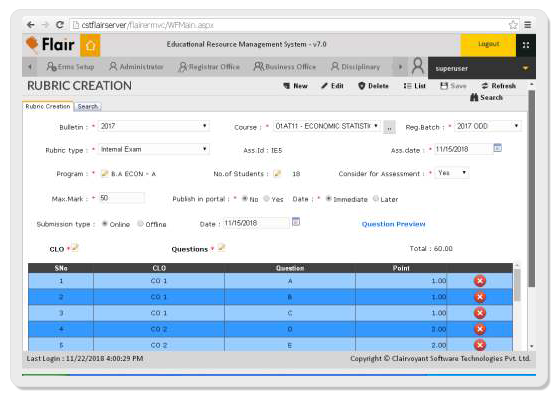 Mapping of course outcomes can be a tedious task for the staff and management. OBE and Bloom's Taxonomy compliant Flair - ERMS outcome based education software maps all levels of outcomes. This will give a level of control that is unprecedented and completely changes the way faculty look at workflows and tasks related to OBE.
With Flair - ERMS in institution, it is no more OBE a tedious and strenuous affair. Track every detail and map every question to the outcomes with simple steps.
Program Outcome (PO) - Course mapping
Course Outcome (CO) - Program Outcome (PO) mapping
Assessments - CO mapping
Curriculum - CO mapping
Questions - CO mapping
Flair - ERMS has a built-in automated processes and workflows, assignment tracking system, document management, reporting & efficient communication methods. Configure and customize assessment rules that are consistent and standardized. Manage the assessments and online assignment process from initiation to completion, automation of tasks, storing of histories, management of student profiles and due dates.
Creation of rubrics for assessments made simple and easy to do and it can be configured in the system and updated automatically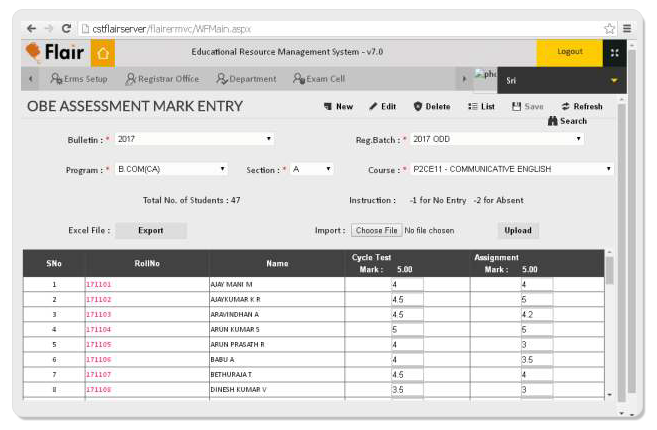 Configurable Rubrics (Assessment Methods)
Easy notifications to students
Online & Offline Assessments
Create unlimited assessment patterns
Assessments mapping with Question Paper
Bloom's Taxonomy domain mapping with questions Configurable Rubrics (Assessment Methods) Easy notifications to students
The reports that are being generated can be analyzed and compared with other programs for improvement. The system also notifies the students on their current status and guides them to take necessary actions to improve their grades.
Absolute Grading support
Relative Grading support
Curve Grading Support
Auto checks threshold values
Automatic report generation
Attainment Level in PO & CO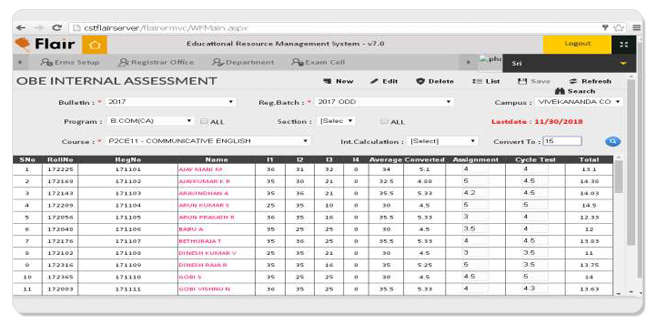 The compliance with OBE and Bloom's taxonomy is one of the major requirement for any accreditation body, be it Washington Accord, LIMA accord, or Bologna process, NAAC etc. Any accreditation body like ABET, NBA, NAAC etc check multiple criteria before giving accreditation to a particular program. The CQI or continuous quality improvement process and the features in Flair - ERMS helps easy evaluations with Corrective Activity Requests (CAR). CQI and CAR helps in streamlining the students performance and achieve the desired attainment levels in a Course or Program.
Flair - ERMS supports and monitors
PEO-PO mapping
Complies with NBA, NAAC and ABET
Continuous Quality Improvement or CQI tools
Auto Alerts and Notifications to faculties and students at various stages.
Minimizing time in data recording, analyzing and reporting with a database and data backup system
Platform to monitor and communicate student's performance thru live dashboard
Continuous and instant tracking for each assessment
Effective implementation of continuous quality improvement (CQI)
Automatically generate CQI action – immediate CQI
Automated monitoring of performance outcome
Achievement – student and cohort
Program Educational Outcomes (PEO) for the performance of the Alumni students.
Contact Us
Clairvoyant Software Technologies
1A/1, Old Natham Road, Madurai - 625014, Tamilnadu, India.

Telephone Number
+91 452 2643 903
Mobile Number
+91 99430 23412
Email ID
support@flairerm.in